Posted by Cameron Shelley in : STV202 , comments closed
An short piece on NPR discusses the lucky origins of some classic, American foods. One example is nachos:
One day in 1943, the wives of ten to twelve U.S. soldiers stationed at Fort Duncan in nearby Eagle Pass were in Piedras Negras [Mexico] on a shopping trip, and arrived at the restaurant after it had closed for the day. The maître d', Ignacio "Nacho" Anaya, invented a new snack for them with what little he had available in the kitchen: tortillas and cheese sauce. Anaya cut the tortillas into triangles, added shredded cheddar cheese, quickly heated them, added sliced jalapeño peppers and served them.
It seems that many staples in the American diet owe their modern form, in no small part, to luck.
This invention illustrates the phenomenon of unintended consequences. In the case of nachos, Ignacio Anaya intended merely to keep his customers happy. Without meaning to do so, he invented a dish that would become wildly and broadly popular. Unintended consequences in design is a frequent theme raised in this blog. Normally, the unintended consequences are negative – something bad happens and we commentators can say "tsk tsk" or "I told you so" in retrospect. It is appropriate to acknowledge that unintended consequences can result in successes as well.
Enjoy!
(
chee.hong
/Wikimedia commons)
Posted by Cameron Shelley in : STV202 , comments closed
(
Deutsche Fotothek
/Wikimedia commons)
Tara Parker-Pope of the New York Times points out how children may be injured on slides because their parents go down with them. What happens is that parents sometimes use the slide with their children in their laps, either for the fun of it (admit it!) or at the request of reluctant children. Unfortunately, this configuration of sliding parent and child can have an unanticipated outcome:
But without warning, Hannah's sneaker caught on the side of the slide. Although Ms. Dickman grabbed the leg and unstuck her daughter's foot, by the time they reached the ground, the girl was whimpering and could not walk. A doctor's visit later revealed a fractured tibia.
Poor kid!
The reason for the increased risk is that the impact of the child's foot on the side of the slide is harder due to the force imparted by the weight of the parent. By themselves, children who get shoes stuck on the side can simply stop and extricate themselves.
Of course, the risk can be mitigated through technique, either by adults not sliding with children in their laps or, at least, by removing the children's shoes and making sure their feet do not touch the sides of the slide. There might also be some possibilities in design, perhaps having a hoop at the slide entrance that is too small for adults to fit through easily so as to discourage them from using the slide. Any other ideas?
So, this little scene provides another illustration of unintended consequences or, perhaps, counterproductive safety measures. It also provides more fodder for debates over playground safety.
Posted by Cameron Shelley in : STV302 , comments closed
From IEEE Spectrum comes news that a company called Verifeyed (get it?) has solved the problem of inauthentic photos. In short, they claim to have a way to tell the difference between images that have been Photoshopped (or otherwise digitally altered) and those that have not.
(
Specious
/Wikimedia commons)
Their approach is innovative. Other companies have software that attempt to detect vagaries that are introduced into an image as a result of digital manipulation. Verifeyed, however, uses a different tactic:
[T]he company has analyzed 8000 cameras and scanners so far, with more in the pipeline, to determine each type of camera's "footprint." By comparing the image against the camera's footprint, the company says it can quickly and easily spot alterations. The technology can also potentially spot the "fingerprint" of an individual camera, making it useful for enforcing laws against, for example, child pornography.
If I understand this description correctly, the Verifeyed system identifies patterns in the way that different cameras record images, and then compares a given image against those patterns. If a given image does not conform to any known pattern, then the implication is that it has been altered.
It is an interesting strategy and perhaps useful for many uploaded photos. However, it does sound as though it might be vulnerable to a man-in-the-middle style attack. That is, someone can manipulate an image (in some way) and then photograph it, thus producing a result containing a bona fide "footprint".
In any event, I suppose it goes to show that we have not given up on authenticity, especially in digital imagery, quite yet. (See previous blog entries on fauxtography.)
Posted by Cameron Shelley in : STV202 , comments closed
Previously, I put up some images of American posters regarding food waste during the two World Wars. I should note that other nations engaged in similar campaigns, including Canada. Here are some examples from north of the border.
In the First World War, the Canada Food Board began to produce posters urging Canadians to be patriotic in their food use. The Dominion Government created the Poster War Service to help with the production of propaganda for war-related purposes.
Some posters emphasized the need for food conservation. In the item below, conservation is presented as an age-old virtue of thrift represented by the grandmother and passed down through the women in the Canadian household.

(Toronto Public Library)
(Side note: What do you think of the openings inside the "O"s in the poster font?)
Another poster portrayed the food emergency as an opportunity to be both patriotic and self-regarding. Increasing food production would both aid the Canadian and British war effort and also put more money in the pockets of Canadian farmers. A whole series of posters were based on this theme, describing Canada's "beef opportunity", "egg opportunity", "pork opportunity", and so on.

(Archives of Ontario)
As with American ones, Canadian posters could mix patriotism with guilt.


(Toronto Public Library)
Related to the problem of food waste is the problem of hoarding, that is, people stockpiling food that they did not need, thus denying it to the troops. This poster attempts to vilify hoarding and apply fear of the law (and thus exposure) as well.

(McGill Digital Library: War posters)
(Would people hoarding food actually label their bags "hoarded flour" and "hoarded sugar"?)
I think that the poster below may be the most effective one in many ways. Forgoing abstractions, it appeals to love of family, thus making the issue of food waste a personal one.

(McGill Digital Library: War posters)
Here, we move to the Second World War. As in the United States, people were urged to save food scraps for processing into munitions. Thus, food is ammunition not just metaphorically but literally.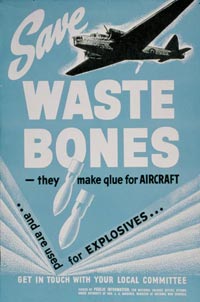 (
Canadian War Museum
)
Other posters attempted to assist the viewer in meeting food conservation goals, in order to support the war effort. This poster, from the Metropolitan Life Insurance Company, attempts to inform people about how to eat a diet compatible with the war. The emphasis seems to be on reducing the amount of meat consumed, presumably so that it can be sent overseas.
(
Canadian Museum of Civilisation
)
This poster from the Health League of Canada urges viewers to establish Victory Gardens. The Victory Garden was personal plot where families raised their own vegetables, essentially a traditional kitchen garden but with a patriotic veneer. The concept of the Victory Garden was widespread in the Western world during the war. Here, the trope of food as a munition is brought to life playfully through anthropomorphicizing the foods themselves.
(
Canadian Museum of Civilisation
)
Repeating a theme from the First World War, this poster urges Canadian farmers to increase food production. It also refers to the Canadian self-image ("This is our strength") as a land of natural resources, making Canadians hewers of wood and drawers of water.
(
Canadian Museum of Civilisation
)
Finally, many posters were issued in French, this one from the Dominion Department of Labour, urging French Canadian farmers to increase food production for the coming winter.
(
Canadian Museum of Civilisation
)
The posters certainly drive home the point that food is a crucial component of war, a munition, if you will. Thus, the entire food system gets swept up into the war effort. It is also interesting to observe the similarities between the wartime campaigns and the modern food conservation movement. For example, the public was urged not to waste food, that is, not to purchase, prepare, or eat more than they strictly needed to. There are similar campaigns underway today, in an attempt to "combat" the current epidemic of obesity. In addition, the local food movement encourages people to re-establish kitchen gardens and to raise urban chickens, reminiscent of the Victory Gardens of World War Two. Finally, the dietary advice given during the wars emphasized that the public should reduce meat consumption in favor of vegetables. Meat was to be reserved for the troops due, I suppose, to its efficiency in providing proteins and energy. This measure is similar to current advocacy of reduction in meat consumption for the purpose of lowering the environmental impact of meat production. It would be interesting to compare the effect of the war programs to that of the modern health and environmental ones. I would guess that the modern effort has a ways to go to equal those provoked by the wars.
Posted by Cameron Shelley in : STV202 , comments closed
Earlier, I posted a blog concerning the issue of food waste. In looking over images for the posting, I found some posters recently uploaded to Wikimedia Commons by the US National Archives and Records Administration. The posters are largely items posted during the First and Second World Wars to urge the audience to conserve food. There are many interesting posters from both periods. I will post some here to give you an idea of what is available for viewing.
Below is a poster that compares food to ammunition. The implication is that wasting food is like denying ammunition to the troops. The comparison makes sense as far as it goes: Troops need food to fight, much like they need ammunition. (Or, "an army marches on its stomach", as Napoleon said.) However, ammunition is not usually something that civilians need to forgo in order to supply the military. Perhaps the assimilation of food to munitions is a symptom of total war: the subordination of civilian life to the military machine during times of armed conflict.
This poster urges Americans to continue saving food after the war. In that way, the food can be shipped to Europe to help fend off Bolshevism! So, food is not only a military good but also a political tool.
Some posters appeal not to patriotism for the homeland or fear of political radicals abroad but to simple guilt.
Besides being a military, political, and interpersonal issue, food and food waste is a cultural issue as well. In this case, the cultural pressure is exerted through the dominant religion.
Now to World War II. As before, the comparison of food to a munition is made. This time, however, the item being referred to–wasted food–is represented by its absence. Although logical, this choice of representation is nevertheless a bit of a poser for the viewer.
The US Navy deployed humor as a way of encouraging food conservation, so as to make the food go farther. Here, the humorous incongruity is furthered by showing a smaller man with the oversized stack of chow.
The US Army employed similar tactics, although the appeal here is to self-preservation.
Then there is always sex appeal. This poster would get the attention of men who may not have seen a girl in a while.
In this poster, viewers are invited to compare themselves with the troops, invoking both patriotism and guilt.
As a complement to guilt and patriotism, there is also shame and disloyalty. In this poster, food waste shames viewers in the eyes of their countrymen, as evidenced through its approval in the leering eyes of the enemy.
Finally, not only could food be a weapon metaphorically, but also literally!
The idea of food as a kind of munition links it to all kinds of important social institutions and the strong feelings associated with them. On this view, food waste is seen as shameful and unpatriotic. Today, food is not linked to any concept that arouses such broad and heartfelt support. Thus, although food waste is not viewed as acceptable, there are no emotive posters urging us to conserve it, nor is there much political impetus to change the situation.
Update: Have a look at this discussion of American food posters from the wars at the Smithsonian Magazine website. Also, see the beans are bullets exhibit at the website of the National Agricultural Library.
Posted by Cameron Shelley in : STV202 , comments closed
Depending on what source you believe, between one-third and one-half of food that comes out of the ground in the Western world goes unconsumed. There are various reasons for this phenomenon. One is simply entropy, that is, food simply leaks out of the system at various points, beginning with the farm. Another is that some of our fellow creatures, e.g., insects and mice, are at least as keen about our food as we are. Then, there is the fact that much of the food that Westerners purchase simply spoils before it is eaten. In fact, it is remarkable to note how much edible food is simply thrown away.
(
jbloom
/Flickr)
This inefficiency in the food system cries out for a response. Two responses have made the news of late. The first is a project by photographer Klaus Pichler to portray rotten food in a series of high-style photos. Disgusting old food never looked so good! Here's a taste:
The point, Pichler says, is to encourage people to think harder about how they use food, and whether or not it is best regarded merely as a commodity. After all, although the photos depict rotten food in a new way, the subject matter itself should be familiar to most of us:
"If you go through the whole series, I think you'll see more than one picture that you've experienced in your home," he says.
A different response to the issue of food waste is presented in an article on edible food packaging. Some researchers regard edible packaging as the next big think in the packaging industry:
Leading the way (in publicity terms, at least) is the Dumbledore of food technology, Harvard wizard Dr David Edwards whose previous innovations include an "breathable" chocolate delightfully called Le Whif. He has now turned his attention to WikiCells – an edible membrane made from a biodegradable polymer and food particles – that can imitate "bottles" found in nature, such as grape skins.

So far, Dr Edwards and his team at Harvard's Wyss Institute have created a tomato membrane containing gazpacho soup, an orange membrane filled with orange juice that can be sipped through a straw, a grape-like membrane holding wine and a chocolate membrane containing hot chocolate. He believes pretty much any flavour is possible.
There are many potential benefits to this research. Edible packaging should help to reduce the amount of waste that goes to the landfill or the recycling depot, for example. It might also help to reduce spoilage by helping to keep foods fresher for longer.
As always, there are potential difficulties with edible packaging. As the article notes, any packaging gets handled many times before the item within is used by the purchaser. Would you eat a package that has been passed along by perhaps dozens of unknown hands? Also, packaging is for advertising and not just for preservation. Thus, it may proliferate beyond the needs of food protection. Imagine what distributors or grocery stores would spray on to their produce if they could figure out how. The produce section would start to resemble the breakfast cereal isle, perhaps.
This last point reminds me somewhat of the invention of plastic bags for individual bananas by Del Monte Fresh Foods last year. Yes, each banana comes in its own plastic bag, re-labeled as "a natural energy snack on the go!" Jon Stewart derided the concept:
"What problem… what function does the bag serve that the peel does not currently serve? A product for people who love bananas but hate their biodegradability?"
In its defense, Del Monte claims that the bananas have been treated with Controlled Ripening Technology (CRT), which extends the shelf life of the banana for six days. This benefit can be realized only if the banana is confined to a plastic bag, however. This process increases the sustainability of the banana industry, apparently, although it requires the use of millions of little plastic bags whose environmental impact remains unclear.
In any event, the problem of food sustainability deserves our attention, and food packaging technology must play some role in our response to it.
Posted by Cameron Shelley in : STV202 , comments closed
This TED talk by Tal Golesworthy describes how he, a humble "boiler engineer", devised a treatment for his aortic heart problem that was considerably improved over the standard medical treatment available.
The talk is impressive for its slickness (in part because of Tal's self-effacing, "bespoke" manner of self presentation), and the tale of technological innovation that it relates. As Tal points out, the problem with his aorta seems to be one that many engineers would find familiar, a lack of tensile strength in the tissue. Surely, a supportive wrap would be an easier and superior solution to a replacement.
Tal's talk is also interesting for the remarks he makes about the social issues in technological development. There were the differences of culture between engineering and medical communities to be faced. Tal also complains pointedly about the arrogance of doctors he dealt with who were skeptical of his ideas, and about the intransigence or incomprehension of bureaucrats whose permission or support he needed to proceed. Indeed, the story is a version of the old trope of the misunderstood mad scientist, whose brilliance is imperceptible to the lesser lights around him. Perhaps it would do to point out that some engineers are capable of arrogance and intransigence themselves.
In any event, kudos to Tal! His story will certainly be of interest to anyone concerned about how new technologies are developed and adopted.
Posted by Cameron Shelley in : STV202 , comments closed
As we near the 100th anniversary of the Titanic disaster, many commentators are reviewing its causes and implications. An exhaustive list of commentaries is not within my purview, but instructive items can be found at NPR, IEEE Spectrum, and Edward Tenner's website.

(Leipnizkeks/Wikimedia commons)
One item of note that would be worth adding comes from Paul Louden-Brown's discussion of Titanic's design. Louden-Brown notes that Titanic's design stayed with the "tried and true":
Titanic … adopted tried and trusted methods for her design and construction. No risks were taken with the choice of engines which were enlarged versions of the propulsion system first used experimentally in Laurentic, another White Star liner, in 1909. The triple screw vessel had proved that two expansion engines feeding exhaust steam into a low pressure turbine were more economical than vessels using expansion engines or turbines alone.
Actually, this statement strikes me as containing a curious contradiction. No risks were taken, yet Titanic's engines were significantly larger than previous ones. In fact, Titanic as a whole was quite a bit larger than previous vessels run by White Star (even the Laurentic). A significant change of scale brings with it new risks, as bigger versions of old designs do not necessarily work in the same way.
Louden-Brown acknowledges that the issue of scale applied to Titanic, and to her maneuvering system in particular:
Titanic's hull and upper works were also enlarged versions of designs refined over several decades. Her stern, with its high graceful counter and long thin rudder, was an exact copy of an 18th-century sailing ship, wrought in steel, a perfect example of the lack of technical development. … No account was made for advances in scale and little thought was given to how a ship, 852 feet in length, might turn in an emergency or avoid collision with an iceberg.
In fact, the rudder design, while adequate at a smaller scale and for lower speeds, left Titanic somewhat sluggish at changing direction in the water. This point becomes clearer as Louden-Brown contrasts Titanic's design with that of ships designed by a rival company, Cunard:
They were built principally from lessons learnt from advances in warship construction, but most importantly both were powered by steam turbines driving quadruple screws, each fitted with a large balanced rudder, making them faster than the competition and easier to manoeuvre.
…
Compared with the rudder design of the Cunarders, Titanic's was a fraction of the size.
The implication is clear: Had Titanic's crew spotted the iceberg prior to their collision, Titanic may have been unable to maneuver sufficiently to avoid a devastating impact.
This point brings me back to the contradiction I noted above. Louden-Brown characterizes Titanic's design as conservative. This implies that her design followed the strategy prescribed by the precautionary principle, on which new technological risks are to be avoided until proven acceptably safe. Insofar as Titanic's design resembled that of previous ships, its design seems like a cautious one. However, the significant increase in scale cannot be considered a cautious step. This issue is clear when White Star's approach is contrasted with Cunard's: Cunard had learned from experience with warship design that just scaling up the rudder from smaller vessels was not adequate and, indeed, introduced novel risks. Thus, merely scaling up previous designs should be viewed as a permissive approach instead of a precautionary one.
How, then, can we explain the seeming confusion in which Titanic's design counts as both cautious and novel? I think confusion is a key term here. To say that a significant increase in scale is conservative is to confuse conservatism with simplicity. It is conceptually simple to scale a design based on existing models. Make the engines bigger; make the rudder bigger, keeping everything in proportion. Unfortunately, simple measures are not necessarily conservative ones, although they might seem to be. An elephant would not "work" if scaled down to the size of a mouse, nor would a mouse "work" if scaled to the size of an elephant (see the "square-cube law"). In the final analysis, it would appear that the design of Titanic's steering system should be considered an experimental rather than a tried-and-true feature.
Posted by Cameron Shelley in : Events , comments closed
A talk entitled "The rhetoric of store-window mannequins" will be presented next Tuesday, April 17, at 1 to 2:30pm in PAS 2464. The presenters are Marie Gelang and Emma Engdahl from the University of Orebro in Sweden. See here to get an idea of the content.
Posted by Cameron Shelley in : STV202, STV203 , comments closed
Insects are not a traditional part of the Western diet. Thus, news that insects or insect parts are to be found in Western foods has proven controversial. Consider, for example, the news that Starbuck's strawberry Frappuccino contains extract of cochineal, a pink dye obtained by grinding up the bodies of certain beetles. Cochineal is a traditional reddish dye and is considered perfectly safe to eat. Nevertheless, it seems to be more than many Starbucks' customers bargained for.
Besides the "yuck" factor, putting cochineal in a food means that it is not vegetarian, which deprives food containing it of part of its market. Of course, even this problem gets sticky. After all, insects like our food and there is no way of keeping them entirely away from it. Thus, many staples commonly contain certain levels of bug parts, including chocolate, peanut butter, and wheat flour. Since zero tolerance for bug parts is impossible to attain, regulations for food safety are set with more leeway. For example, the FDA allows wheat flour to contain up to 150 bug fragments per 100 grams without being considered unfit. So, it seems that our food contains a soupçon of insect anyway.
Of course, not everyone is averse to eating bugs. The aborigines of Australia eat Witchetty grubs, which are a good source of protein. There are also restaurants where insects can be found on the menu. Consider the "bobotie pie with pumpkin mash" that is served with an "insect crumble" at Specktakel in Haarlem, the Netherlands. The article goes on to point out that the European Union is spending millions of euros figuring out how to incorporate more insect matter in food. Why? Because insects are a cheap source of protein:
Ph.D. student Dennis Oonincx is checking out his mealworms living in the cricket lab, and says his research into how the worms metabolize a waste product shows how superior insects are as a protein source — better than cattle or sheep.

"You can produce more food for people with less input," he says. "It's good food and it's better for the environment."
As the human population grows, eating insects may become an economic necessity.
Economic necessity aside, the stink over cochineal shows that culture will remain a major barrier to insect cuisine. However, if high-end restaurants can interest customers in fancy bug dishes, perhaps public tastes will change:
MasterChef Thomasina Miers has created a three course meal, starting with worm crisps, followed by grasshopper salsa tacos and cricket tostados topped with pecorino, radish and orange – and finishing with chocolate-coated locusts for pudding.

"The packet says they're like popcorn with a difference," winces Bennett-Jones, after a worm crisp: "I would stress the difference."

"A bit like crunchy anchovies," says another guest about the crickets. I grab some tostadas. They're juicy, salty and have plenty of texture. I have eaten the future, and it tastes delicious.
Just think of your next chocolate bar as practice for the future of food.

(Survivorman eats a Witchetty grub, time 3min 53 s.)