Posted by Cameron Shelley in : STV202 , comments closed
Previously, I put up some images of American posters regarding food waste during the two World Wars. I should note that other nations engaged in similar campaigns, including Canada. Here are some examples from north of the border.
In the First World War, the Canada Food Board began to produce posters urging Canadians to be patriotic in their food use. The Dominion Government created the Poster War Service to help with the production of propaganda for war-related purposes.
Some posters emphasized the need for food conservation. In the item below, conservation is presented as an age-old virtue of thrift represented by the grandmother and passed down through the women in the Canadian household.

(Toronto Public Library)
(Side note: What do you think of the openings inside the "O"s in the poster font?)
Another poster portrayed the food emergency as an opportunity to be both patriotic and self-regarding. Increasing food production would both aid the Canadian and British war effort and also put more money in the pockets of Canadian farmers. A whole series of posters were based on this theme, describing Canada's "beef opportunity", "egg opportunity", "pork opportunity", and so on.

(Archives of Ontario)
As with American ones, Canadian posters could mix patriotism with guilt.


(Toronto Public Library)
Related to the problem of food waste is the problem of hoarding, that is, people stockpiling food that they did not need, thus denying it to the troops. This poster attempts to vilify hoarding and apply fear of the law (and thus exposure) as well.

(McGill Digital Library: War posters)
(Would people hoarding food actually label their bags "hoarded flour" and "hoarded sugar"?)
I think that the poster below may be the most effective one in many ways. Forgoing abstractions, it appeals to love of family, thus making the issue of food waste a personal one.

(McGill Digital Library: War posters)
Here, we move to the Second World War. As in the United States, people were urged to save food scraps for processing into munitions. Thus, food is ammunition not just metaphorically but literally.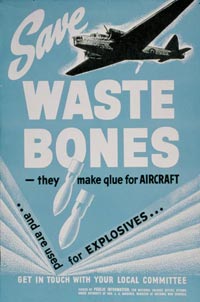 (
Canadian War Museum
)
Other posters attempted to assist the viewer in meeting food conservation goals, in order to support the war effort. This poster, from the Metropolitan Life Insurance Company, attempts to inform people about how to eat a diet compatible with the war. The emphasis seems to be on reducing the amount of meat consumed, presumably so that it can be sent overseas.
(
Canadian Museum of Civilisation
)
This poster from the Health League of Canada urges viewers to establish Victory Gardens. The Victory Garden was personal plot where families raised their own vegetables, essentially a traditional kitchen garden but with a patriotic veneer. The concept of the Victory Garden was widespread in the Western world during the war. Here, the trope of food as a munition is brought to life playfully through anthropomorphicizing the foods themselves.
(
Canadian Museum of Civilisation
)
Repeating a theme from the First World War, this poster urges Canadian farmers to increase food production. It also refers to the Canadian self-image ("This is our strength") as a land of natural resources, making Canadians hewers of wood and drawers of water.
(
Canadian Museum of Civilisation
)
Finally, many posters were issued in French, this one from the Dominion Department of Labour, urging French Canadian farmers to increase food production for the coming winter.
(
Canadian Museum of Civilisation
)
The posters certainly drive home the point that food is a crucial component of war, a munition, if you will. Thus, the entire food system gets swept up into the war effort. It is also interesting to observe the similarities between the wartime campaigns and the modern food conservation movement. For example, the public was urged not to waste food, that is, not to purchase, prepare, or eat more than they strictly needed to. There are similar campaigns underway today, in an attempt to "combat" the current epidemic of obesity. In addition, the local food movement encourages people to re-establish kitchen gardens and to raise urban chickens, reminiscent of the Victory Gardens of World War Two. Finally, the dietary advice given during the wars emphasized that the public should reduce meat consumption in favor of vegetables. Meat was to be reserved for the troops due, I suppose, to its efficiency in providing proteins and energy. This measure is similar to current advocacy of reduction in meat consumption for the purpose of lowering the environmental impact of meat production. It would be interesting to compare the effect of the war programs to that of the modern health and environmental ones. I would guess that the modern effort has a ways to go to equal those provoked by the wars.
Posted by Cameron Shelley in : STV202 , comments closed
Earlier, I posted a blog concerning the issue of food waste. In looking over images for the posting, I found some posters recently uploaded to Wikimedia Commons by the US National Archives and Records Administration. The posters are largely items posted during the First and Second World Wars to urge the audience to conserve food. There are many interesting posters from both periods. I will post some here to give you an idea of what is available for viewing.
Below is a poster that compares food to ammunition. The implication is that wasting food is like denying ammunition to the troops. The comparison makes sense as far as it goes: Troops need food to fight, much like they need ammunition. (Or, "an army marches on its stomach", as Napoleon said.) However, ammunition is not usually something that civilians need to forgo in order to supply the military. Perhaps the assimilation of food to munitions is a symptom of total war: the subordination of civilian life to the military machine during times of armed conflict.
This poster urges Americans to continue saving food after the war. In that way, the food can be shipped to Europe to help fend off Bolshevism! So, food is not only a military good but also a political tool.
Some posters appeal not to patriotism for the homeland or fear of political radicals abroad but to simple guilt.
Besides being a military, political, and interpersonal issue, food and food waste is a cultural issue as well. In this case, the cultural pressure is exerted through the dominant religion.
Now to World War II. As before, the comparison of food to a munition is made. This time, however, the item being referred to–wasted food–is represented by its absence. Although logical, this choice of representation is nevertheless a bit of a poser for the viewer.
The US Navy deployed humor as a way of encouraging food conservation, so as to make the food go farther. Here, the humorous incongruity is furthered by showing a smaller man with the oversized stack of chow.
The US Army employed similar tactics, although the appeal here is to self-preservation.
Then there is always sex appeal. This poster would get the attention of men who may not have seen a girl in a while.
In this poster, viewers are invited to compare themselves with the troops, invoking both patriotism and guilt.
As a complement to guilt and patriotism, there is also shame and disloyalty. In this poster, food waste shames viewers in the eyes of their countrymen, as evidenced through its approval in the leering eyes of the enemy.
Finally, not only could food be a weapon metaphorically, but also literally!
The idea of food as a kind of munition links it to all kinds of important social institutions and the strong feelings associated with them. On this view, food waste is seen as shameful and unpatriotic. Today, food is not linked to any concept that arouses such broad and heartfelt support. Thus, although food waste is not viewed as acceptable, there are no emotive posters urging us to conserve it, nor is there much political impetus to change the situation.
Update: Have a look at this discussion of American food posters from the wars at the Smithsonian Magazine website. Also, see the beans are bullets exhibit at the website of the National Agricultural Library.
Posted by Cameron Shelley in : STV302 , comments closed
(
Enemenemu
/Wikimedia Commons)
Philosopher Peter Singer has written a piece for the Boston Globe in which he points out that smart weapons like drones won't clean up warfare. Singer points out that technological progress in weapons has sometimes been seen as bringing an end to warfare itself:
The poet John Donne predicted in 1621 that the invention of better cannons would mean that wars would "come to a quicker ends than heretofore, and the great expence of bloud is avoyed.'' Alfred Nobel thought the same of dynamite, as did the inventors of everything from the machine gun to the atomic bomb.
Of course, many of these inventions have most obviously succeeded in making warfare nastier and broadening its impact on civilian populations.
Thus, we should be cautious about claims that modern "smart" weapons will make warfare somehow cleaner or more acceptable. Remotely piloted drones, for example, seem to have made warfare more precise, allowing for "surgical" strikes against enemies, in contrast with the carpet bombing of past campaigns. In future, the hope is that, as drones become more computerized and thus more autonomous, clever programming will make them even more judicious killers than their erstwhile human masters:
For instance, there has been research, largely funded by the military, on how to create an "ethical governor'' for unmanned weapons. Think Watson, the Artificial Intelligence program that won "Jeopardy,'' given a law degree and dropped into war. Software would program robotic weapons to act ethically, such as only being able to fire in situations that conform to the Geneva Conventions.
Singer is rightly skeptical that such a plan will work out in any straightforward way. (See this previous blog post for more information.) Inevitably, the adoption of more autonomous drones will create problems that will be difficult to anticipate or to encode in an explicit set of rules, just as in the case of self-driving cars.
However, there may be a silver lining to this latest manifestation of the military-industrial complex. Developing and adopting high-tech war gear is damned expensive! The US military's F35 fighter program, for example, will cost $382 billion, according to The Economist. And the figure only gets better if you consider the program's total cost:
What horrified the senators most was not the cost of buying F-35s but the cost of operating and supporting them: $1 trillion over the plane's lifetime. Mr McCain described that estimate as "jaw-dropping". The Pentagon guesses that it will cost a third more to run the F-35 than the aircraft it is replacing.
There are many reasons why budgets for high-tech military projects have become so astronomical. One of them, I submit, is that it is simply harder to develop systems that increase in complexity according to Moore's law.
Why is this awful acceleration of expenditure a good thing? Perhaps it is, insofar as it makes warfare too expensive to engage in lightly. The pricier war gets, especially in comparison to its expected rewards, the less policymakers are apt to pursue it. I should assure you, at this point, that I am not naive enough to suggest that expense is the only factor that gets considered when hostilities are contemplated, nor that the outbreak of war is determined by rational economic calculation. I merely assert that it is a factor, and that it may become more important as the expense of developing weapons systems climbs sky-high.
If so, then we may have cause to say something nice about ethical governors for drones. They may not make war any less ugly but they may make it prohibitively pricey.
Posted by Cameron Shelley in : STV202 , comments closed
Here is an interesting pieced from Wired about how bureaucracy delayed the arrival of a laser-based security system destined for Marines in Iraq. The system in question is a non-lethal laser gun designed to dazzle car drivers by shining an intense light in their eyes. The expected result is that the drivers must slow down and stop or else lose control of their cars. The idea is that this system can be used at military checkpoints to give soldiers an alternative to firing bullets at cars that are not slowing when approaching the checkpoint.
The Marine Corps made an urgent request for the technology in 2005. As the article explains, Iraqi driving habits have long featured weaving and speeding. The result is that drivers would unwittingly speed towards military checkpoints in a manner similar to that of a suicide bomber. Marines at the checkpoints would flash their headlights and fire warning shots but not always to effect. In the end, the Marines would fire on the drivers to protect themselves, resulting in a number of innocent casualties. Having the laser guns on hand would give the soldiers a way of halting the cars without killing the drivers.
An urgent request for the dazzlers was made in September 2005. Such requests are supposed to take no more than six months to resolve. However, this request was not even addressed until six months had passed. The delay was caused, in part, by a dispute over which system to purchase. Also, the Marine force in Iraq tried to purchase the dazzlers directly, circumventing the bureaucracy at Development Command. Only after Development Command had stopped that purchase did they proceed with their own purchase. In the meantime, estimates a report done for the Corps brass, 50 innocent Iraqis were killed at checkpoints who might have been merely incapacitated had the dazzler been available.
This incident is, among other things, an illustration of what R. G. Little calls institutional bias. Institutions and organizations can have a kind of built-in bias towards precaution or permissiveness in their adoption of designs or technologies. For various reasons, the bias is not always healthy. Famously, the Space Shuttle program has a permissive bias, resulting in the Challenger disaster. In the current example, the Marine Corps could be accused of having an overly precautionary bias.
Of course, it is easy to dump on bureaucracies for being slow-moving and self-serving. However, we should bear in mind that precaution has its uses. A permissive system allows for the rapid acquisition of both useful and useless or even harmful technologies. Imagine, for instance, that the Corps urgently acquired a bomb detector (cf. this story about dogs vs high-tech detectors) that turned out to be defective. Probably, many soldiers and civilians would be harmed before the detector was abandoned. In that event, the bureaucracy might be blamed for not being slow-moving enough.
I suppose the moral is that we certainly want to keep watch on the biases of our institutions to ensure that they fit with the circumstances that they are in. However, in order to do so, we have to consider and balance the errors that come with both permissive and precautionary approaches to progress.
Posted by Cameron Shelley in : STV202, STV205, STV302 , comments closed
A recent article in The Economist notes one response to the continuing controversy over the use of drones for attack and assassination by the US military and CIA: The drone could be programmed to think for itself on the ethics of its missions.
The software conscience that Dr Arkin and his colleagues have developed is called the Ethical Architecture. Its judgment may be better than a human's because it operates so fast and knows so much. And—like a human but unlike most machines—it can learn.

…

After each strike the drone would be updated with information about the actual destruction caused. It would note any damage to nearby buildings and would subsequently receive information from other sources, such as soldiers in the area, fixed cameras on the ground and other aircraft. Using this information, it could compare the level of destruction it expected with what actually happened. If it did more damage than expected—for example, if a nearby cemetery or mosque was harmed by an attack on a suspected terrorist safe house—then it could use this information to restrict its choice of weapon in future engagements. It could also pass the information to other drones.
The Ethical Architecture seems to involve a limited form of utilitarian calculus, weighing benefits against harms to reach a decision. The harms and benefits considered are those more easily and immediately observed and quantified, e.g., the number of casualties and damage to infrastructure. Less tangible considerations, like fairness or resentment, will likely not be factored in. Hopefully, the operators of the drones will understand the limitations of the Ethical Architecture and not concede ethical deliberations to them.
I should point out, too, that military drones are not the only place where ethical software might soon be deployed. Consider the increasing deployment of automated driving features in cars, for example. As computers in our cars take over more and more of the tasks of driving, they will have to make more of the decisions. A collision avoidance system, for instance, may have to decide who lives and who does not when a sudden collision becomes unavoidable and the only variable left to consider is how it will occur.